Buy securely online or click here for a store near you. (NOTE: 2 for 1 special only available online)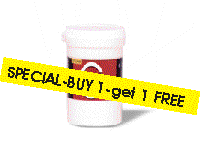 Pure Citrus Aurantium powder extract
(active ingredient Synephrine)
SPECIAL OFFER...BUY ONE...GET ONE FREE!
Buy 30 grams...get 30 grams free...


only $39 U.S.
<
<

Buy 90 grams...get 90 grams free...


only $79 U.S.

HURRY! Limited time only
100% SATISFACTION GUARANTEE...or YOUR MONEY BACK


If you are not 100% satisfied with the purity and potency of Ironpower's pure Citrus Aurantium powder...Simply return the unused portion from the opened container and the unopened container(s) and we'll refund your complete purchase price, no time limit, no questions asked.
CITRUS AURANTIUM (also known as BITTER ORANGE)

CONTAINS: Pure Citrus Aurantium powder extract, of which the main active ingredient is Synephrine (8%).

NUTRITIONAL INFORMATION: Extract also contains a combination of four other adrenergic amines: N-methyltyramine, hordenine, octopamine, and tyramine.
MAJOR FUNCTIONS: FAT LOSS AND PHYSIQUE ENHANCEMENT. Enhancing fat burning and muscle preservation of both males and females. The amines in Citrus Aurantium extract stimulate beta-3 cell receptors. Stimulation of these beta-3 receptors elicits the breakdown of fat. Simultaneously, this stimulation causes an increase in the metabolic rate – thermogenesis – which burns calories. It may also act as an appetite suppressant.
SAFETY PRECAUTIONS: May increase risk of heart irregularities and increase blood pressure.
WARNING: Should not be taken by pregnant women (may cause contractions). Banned by some sporting bodies. Competing athletes should check first if in doubt.
HOW TO USE: Ironpower Pure Citrus Aurantium Powder comes with a green measuring scoop which holds 250mg when level. Take 250mg upon awakening in morning with breakfast and 250mg mid afternoon. You may also take 3 hours before aerobic work stacked with 250mg caffeine to maximize fat burning. Drink plenty of water.

OTHER USES: Used in Traditional Chinese Medicine to treat chest congestion and stimulate gastrointestinal functions.

AVAILABLE IN: 30, & 90 gram containers with 250mg (when level) measuring scoop.

HOW DOES IT WORK?: In a nut-shell, Synephrine causes fat to be released from its stores, enhances the burning of fat, and preserves muscle typically lost while dieting, without stimulating the central nervous system. Citrus aurantium extract may also help control appetite. This combination of functions makes it a valuable stand alone fat loss weapon. However, by combining it with caffeine and aspirin, it's benefit s are synergistically increased. The stack stimulates the receptor sites in fat tissue. These receptors stimulate lipolysis, which is the breakdown of fat. Many cell surfaces, especially muscle and fat cell surfaces, contain specific receptors known as beta receptors. When synephrine acts indirectly as a B-agonist, (substance that triggers beta receptors) it causes the activation of specific beta receptor sites, a sequence of processes are activated that can both induce the breakdown and use of stored fat for energy
production and increase muscle metabolism.
INCREASING THE FAT BURNING EFFECTS: Methylxanthines (caffeine, aspirin) potentiate the synephrine activity by increasing release of the hormone nor-epinephrine, therefore combining or "stacking" caffeine and aspirin with citrus aurantium extract will increase the fat burning effects even further.